Top 5 B2B Sourcing Platforms from China You Need to Know
China's B2B platforms offer a wide range of advantages that cater to different industries and product categories. By understanding these platform advantages and matching them with your product field, you can streamline your sourcing efforts and maximize your chances of finding the perfect supplier.
Whether you are looking for electronics, textiles, machinery, or other industrial product category, there is a B2B platform tailored to meet your needs. These platforms provide comprehensive information on suppliers, product specifications, pricing, and even customer reviews - giving you valuable insights to make informed decisions.
By utilizing the right B2B platform in China, you gain access to a vast network of reliable suppliers who are experienced in catering to international buyers. This not only ensures high-quality products but also opens up opportunities for competitive pricing and favorable negotiation terms.
Generally speaking you will need to know the following 5 top China B2B Sourcing Platform:
Firstly, Alibaba.com The Premier B2B Platform for Global Trade
Alibaba Marketplace stands tall as the largest B2B platform originating from China. This online marketplace brings together wholesalers, suppliers, and retailers from around the world, offering a wide range of products and services to meet diverse business needs.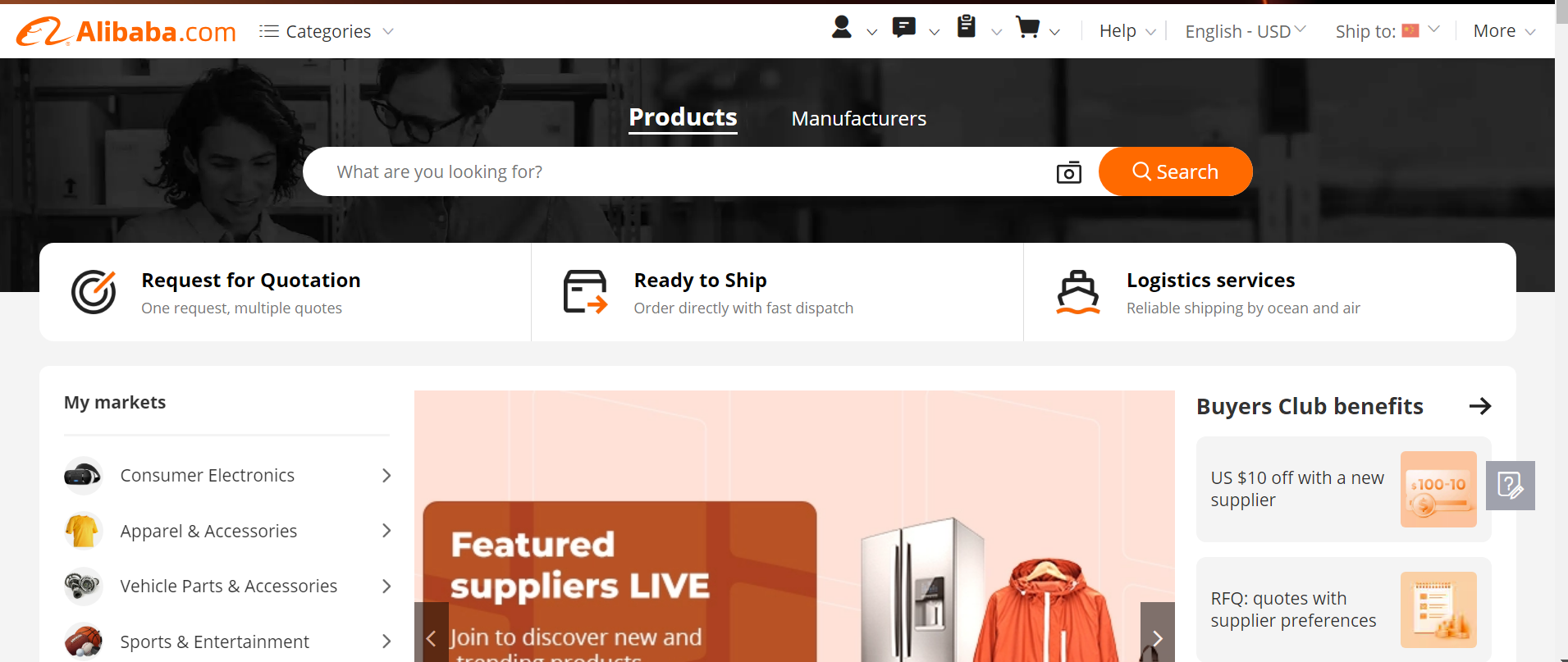 One of the key advantages of Alibaba Marketplace is its vast selection of industries. Whether you are in need of construction materials, apparel, electronics, or a retailer you can find reliable suppliers and wholesalers on this platform with retailer. From small businesses to large enterprises, Alibaba caters to a wide range of industries and provides opportunities for both buyers and sellers to connect and thrive.
Secondly, supplychain.vip MEEKAAM Industrial Goods Sourcing Platfrom
Introducing Meekaam: The Initial Platform for Industrial Goods Sourcing
When it comes to sourcing top-level quality brands and manufacturers for industrial goods, look no further than Meekaam Industrial goods sourcing platform. As one in a kind, they offer a comprehensive solution that connects buyers with over 50,000 trusted suppliers from the renowned Canton Fair.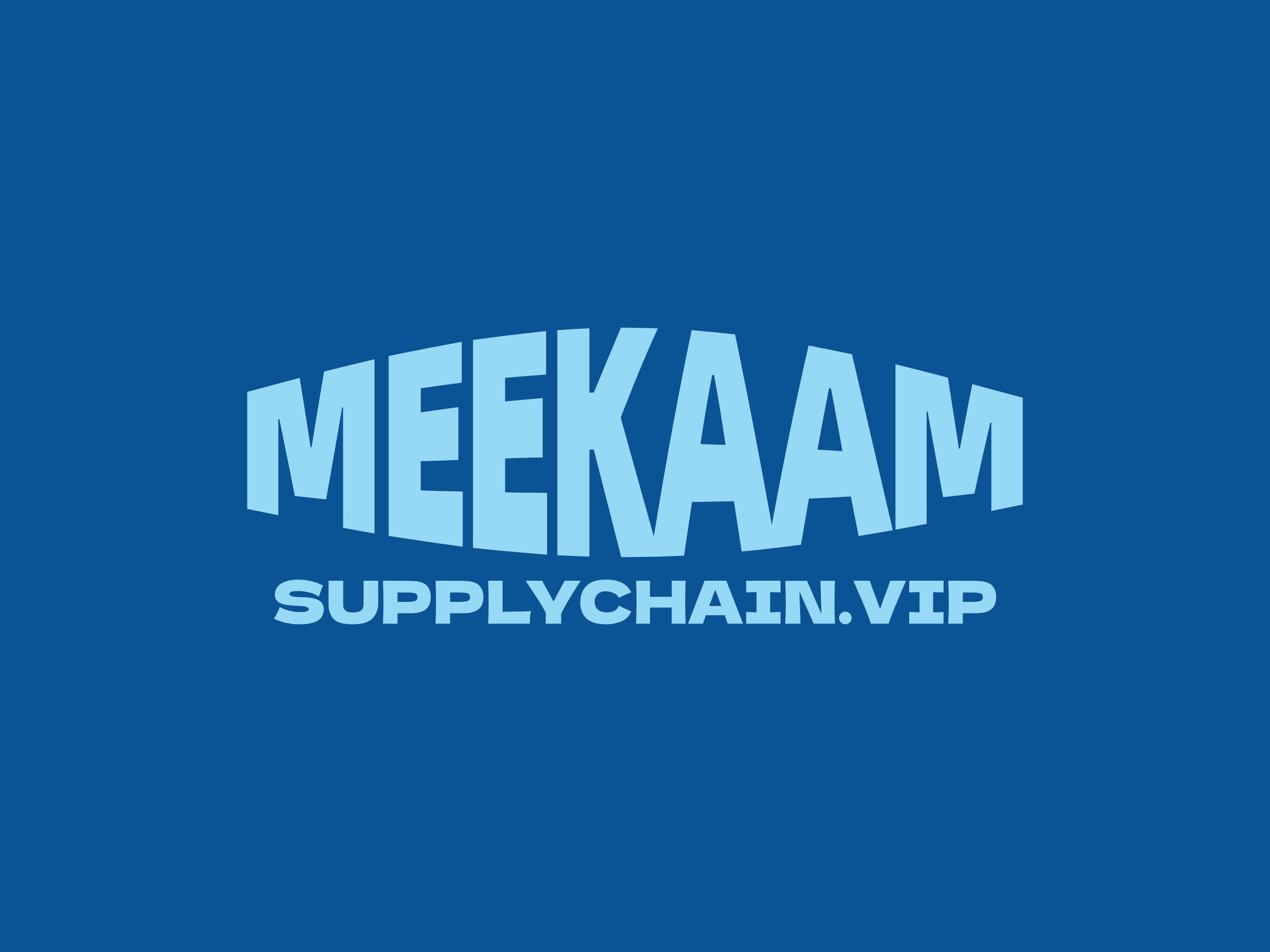 At Meekaam Industrial goods sourcing platform, they understand the importance of finding reliable and reputable suppliers for your business. That's why their platform is designed to provide you with access to a wide range of top-level quality products from verified manufacturers. Whether you are looking for machinery, equipment, or components, their extensive network of suppliers ensures that you have access to the best options available.
One of the key advantages of using Meekaam Industrial goods sourcing platform is their unique combination of online sourcing with offline VIP Sourcing. This means that not only you can browse through the vast catalog of products online at your convenience, but they also offer personalized assistance through the VIP Sourcing service. The dedicated team works closely with buyers to understand their specific requirements and provides tailored recommendations based on their needs.
With Meekaam Industrial goods sourcing platform, you can streamline your sourcing process and save valuable time and resources. The user-friendly platform allows you to easily search for products and supplier, post an RFQ online, and make informed purchasing decisions – all in one place.
Join thousands of satisfied buyers who have successfully sourced high-quality industrial goods through Meekaam Industrial goods sourcing platform. Experience the convenience and efficiency that comes with using the No.1 platform for industrial goods sourcing.
Don't settle for anything less than excellence when it comes to your business's sourcing needs. Choose Meekaam Industrial goods sourcing platform today and discover a world of top-level quality brands and manufacturers at your fingertips.
Thirdly, Made-in-china.com Sourcing Platform
MADE-IN-CHINA.COM has solidified its position as one of the oldest and most reputable B2B platforms in the market. With a wide range of product categories, it has particularly excelled in the consumer electronics and construction material sectors.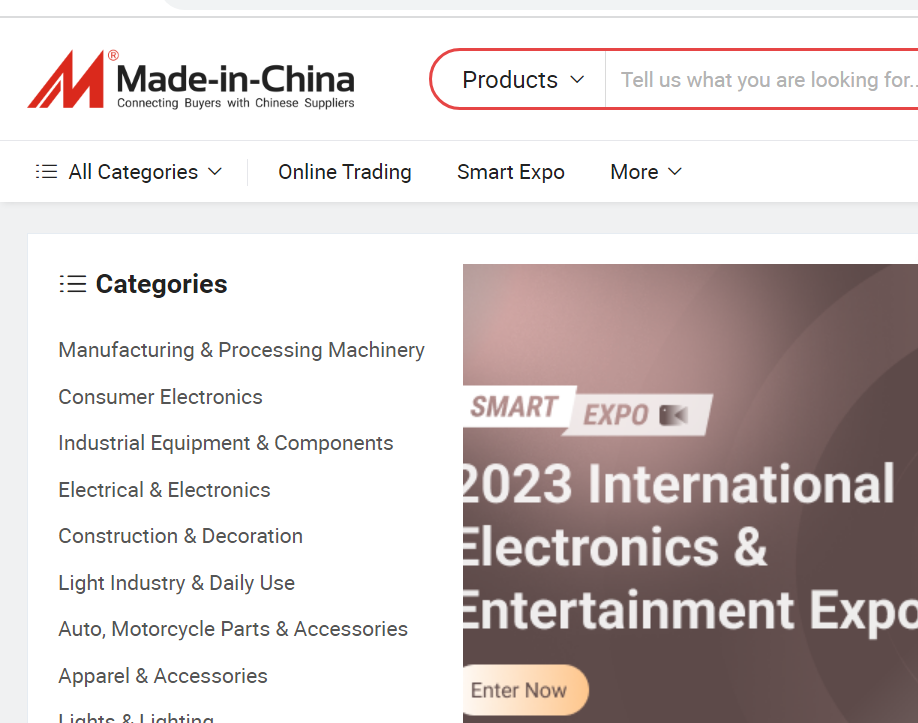 As an established platform, MADE-IN-CHINA.COM offers numerous advantages to both buyers and sellers. For buyers, it provides a vast selection of high-quality products at competitive prices. The platform's stringent verification processes ensure that only trustworthy suppliers are listed, giving buyers peace of mind when making their purchasing decisions.
On the other hand, for sellers, MADE-IN-CHINA.COM offers a global marketplace to showcase their products and reach potential customers from all over the world. The platform's user-friendly interface and comprehensive marketing tools make it easier for sellers to promote their offerings effectively.
MADE-IN-CHINA.COM's success can be attributed to its commitment to providing exceptional service and fostering successful business relationships. With its extensive experience in connecting buyers and sellers, this B2B platform continues to play a pivotal role in facilitating international trade across various industries.
Fourthly, Globalsources.com B2B Sourcing Platform
GlobalSources is a leading B2B platform that has evolved from its roots as a magazine into a comprehensive online sourcing platform. With the added advantage of offline fairs and a monthly magazine, GlobalSources offers businesses an all-encompassing solution for their sourcing needs.
As an online sourcing platform, GlobalSources provides businesses with access to a vast network of suppliers for gift, daily use article etc. This allows companies to easily connect with potential partners and source high-quality products at competitive prices.

What sets GlobalSources apart is its offline fair component. These fairs provide an invaluable opportunity for buyers and suppliers to meet face-to-face, fostering stronger business relationships and facilitating more effective negotiations. The combination of online convenience and offline interaction makes GlobalSources a powerful platform for business growth.
Fivthly, Hktdc.com Sourcing Platform
Welcome to HKTDC, the premier sourcing platform developed by the Hong Kong authorities and a team of professionals from Hong Kong and Mainland China. The platform is designed to provide a seamless online experience for businesses looking to source products and services from Hongkong mainly.
As a trusted platform, HKTDC connects buyers with suppliers from around the world, offering a wide range of products across various industries. Whether you are looking for electronics, fashion, home goods, or any other category, they have you covered.
Their goal is to make sourcing efficient and convenient for businesses of all sizes. finding the right suppliers has never been easier. You can browse through thousands of verified suppliers, compare prices and quality, and make informed decisions that align with your business needs.
With the extensive network of suppliers and industry expertise, HKTDC is your go-to platform for sourcing online.